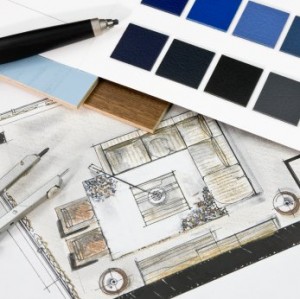 To many people, hiring an interior decorator or designer may seem overwhelming.  Over the years of working as a certified interior decorator in the Columbus, Ohio region, I have compiled a list of questions people should ask to ensure they retain a professional designer and not just a fly-by-night hobbyist.  
1.  How many clients do you have right now and do you have time for another project the scope of which we are considering?  You may like a designer's work, but if they are too busy, they may not have time to devote to your project. If you are willing to wait, then it's less important. 
2.  What is a reasonable time-frame for a project such as mine?   Most clients have a deadline in mind, but may not understand how long it takes to design the project, retain the labor and complete the job.  Expectation setting is critical.  If you want a full redecoration of a 4,000 square foot home and your time frame is six months, and the designer says she can do it – that's not realistic.  If you need custom furniture by the holidays, you should have it ordered by the end of July.  An experienced and reputable designer will not just tell you want you want to hear – they will set reasonable expectations.
3.  How much should I budget for my project?  It's important for the client to have realistic expectations of what things cost and appreciate the value a professional designer adds to their project.  If you aren't sure of what you want to invest, than it's the job of the designer to walk you through what you want and what it will cost.  I usually give my client a good/better/best range and find their comfort zone.  It is simply unrealistic to expect to pay the same for a sofa found in a store vs. one created for you with the assistance of a designer.  If price is the only concern, retaining a professional designer does not make sense.  However, if avoiding costly design mistakes, selecting quality finishes and products, and achieving an aesthetically pleasing design is also of value than hiring a professional designer is for you.
4.  How do you work?  Designers can work in a variety of ways.  Most designers charge by the hour and mark-up from wholesale the products they sell.  Another way is to quote a suggested retail cost less a percentage plus an hourly rate.  You can expect to pay $50-$200 per hour for a decorator/designer depending upon their experience and your geographic region of the country. 
5.  Do you carry professional liability and Business Owner's Policy insurance?  This is very important.  If you are doing a major renovation to your home, you will alsow want to discuss any necessary insurance with your agent prior to start. 
6.  What is your specialty?  Most designers do more than one style of design.  Some designers are specialists.  For instance, they may be great at contemporary, but not traditional design.  Or, they may be a Certified Kitchen Designer but don't do other areas of the home.  Some clients feel more comfortable selecting someone whose portfolio shows their desired decorating style.  What is often more important though is the chemistry between you and the designer, plus the quality of their work and client references.  
7.  Would you please provide me with client references?  Look at a designer's testimonials and actually talk to someone that has worked with that designer.  Also, ask your friends, neighbors, Realtors or other professionals that you trust for recommendations. 
8.  How do you find the products and furnishings?  Does the designer shop locally or from a portfolio of "to the trade" vendors?  If it is important to you to have unique and original furnishings you will want a designer with a large portfolio of vendors as simply shopping locally will not ensure individuality.  For instance, I have a portfolio over nearly 300 vendors from which I can search when it comes to finding just the right item for my discriminating clientelle.
9.  Do you call on me in my home or do I meet you in your studio or at a store?  Most of my clients prefer the convenience of in-home consultations.  However, if they want to be deeply involved in the design process we can meet in my studio or go to a 'to the trade' design center to select products for their home.
10.  Are you present at the time of delivery and installation?  This will tell you if a designer is there till the end.  I am shocked by the amount of designers who do not arrive until a week after the final installation.  I never understand that as seeing a design come to life is the best part of what we do.  Also, being on site is a form of quality control – I consider myself the eyes and ears of a client who is usually not on site.  I know exactly what condition an item arrives in and am committed to preventing possible damages that otherwise may happen during delivery and installation.