Interior Decorating Services
Interior Design: 
Colleen's custom interiors are tailored specifically to the needs of her clients through the creative use of space, light, materials, and distinctive furnishings.  Her philosophy of getting to know the client, their needs and their design inspiration first and foremost results in a space that truly reflects the client's personality and style.  Through her extensive knowledge of residential interior design sources and the studied application of color and texture, Colleen creates individually tailored spaces that tell the clients story rather than her own.  - Fee – following initial design consultation ($150), retainer is 10% of project budget.
Redesign/ "One Day Decorating": 
The affordable solution to traditional interior design allows you to achieve that magazine look for about the price of a new piece of furniture.   Our certified redesigners work with your existing furniture and accessories to create a "designer" look that is fresh and inviting.  We also provide you with a shopping list of additional items that we feel would complete the look of the room.  - Fee - $350 -$550 depending on size of room. 
Shopping & Installation Services: 
Sometimes finding those key items needed to make your space unique can seem daunting.  If you are overwhelmed – or simply too busy – to shop for home décor, relax and leave all the footwork to us.  Prior to shopping we identify the specific items needed and together we determine a budget with which you are comfortable.   Once shopping is complete, we deliver and arrange the items just so to give you that polished, designer look.  - Fee - $75 per hour.
Color Consultation: 
Perhaps you have had a bad experience – or are afraid of making a costly color mistake in your home.  Today's open floor plans highlight the importance of having a harmonious color scheme that flows seamlessly from room to room.  A graduate of the patented, "Color with No Regrets" system, Colleen is a certified color expert trained to create beautiful harmonies based on the science of the color wheel. - Fee - $150 - $300 (determined by number of rooms)
Custom Bedding & Window Treatments: 
Surround yourself with the luxury and quality of exquisite bedding and draperies designed per your style specifications.  Equipped with state of the art technology, Colleen will show you what your treatments will look like before you order. - Fee determined by client measurements, fabric and treatment selection. 
Staging:
Holiday Décor: 
Let us deck your halls in style.  Whether we work with your existing decorations – or acquire new holiday trimmings – you can be confident that your home will shine and impress your guests.  A consultation is required in advance during the month of October.  Holiday décor appointments are scheduled in November only and book up fast. - Fee - $75 per hour.
---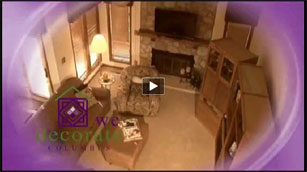 A rustic but sophisticated family room makeover
Watch me transform an outdated 80's family room into a current, cozy entertaining space that the homeowners are proud to show off.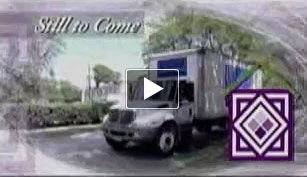 "We Decorate Columbus"
A Beach Inspired Dining Room Design
Colleen Lora and the interior decorating team of "We Decorate Columbus" design a beach inspired dining room using affordable and readily available resources.